It's been a couple of action-packed days. Thursday night we left straight from work to go see The Cornetto Trilogy. Such fun! It had been years since I'd actually sat and watched either Shaun of the Dead or Hot Fuzz from beginning to end, and of course doing so on the big screen with a theater full of fans is the best way to rewatch something. I went with my sisters and some friends, and we had a ton of fun. And we ate a ton of food! Because of course we went to the Drafthouse. For Movie
#1
I had a coupon for free popcorn, which I had smothered in real melted butter. For Movie
#2
I had fish and chips, and my sisters split a chips and queso and an amazing grilled cheese sandwich we plan to recreate ASAP: sourdough bread, white cheddar, caramelized onions, bacon, and apple slices. For Movie
#3
we all got milkshakes (Mexican vanilla, chocolate peanut butter, and chocolate espresso), and then one of my sisters and I splurged and got fresh-baked cookies, too.
This was of course a
huge mistake
.
OMG, we were all SO SICK Thursday night. I was afraid my little sister was going to throw up first in the parking garage, then out the window as we drove home. I was afraid I was going to have to make myself throw up. (I hate vomiting more than just about anything. I told my other sister in the morning that I didn't because I didn't want to wake them up, and she was like, thanks, because your dejected sobbing definitely would have woke us up.) I was just so uncomfortable, and like, how could I be so full when I didn't feel terrible while I was still eating? Ugh.
Anyway, The World's End was GREAT. Really, really funny, from beginning to end. Eddie Marsan was incredible; I don't remember seeing him before in such a broadly-comic role, but he did it so well. We're probably going to see it again this weekend with my dad. During the first intermission, we had a trivia contest; during the second, there was a drinking contest. For The World's End, they brought us all twisty straws (you'll understand when you see it), and then coasters and these weird mouthpieces. My little sister immediately stuck hers in her mouth, and we were, I'm not even joking, like
hysterical
laughing for the next five minutes. The Alamo guy came over and took a picture of her.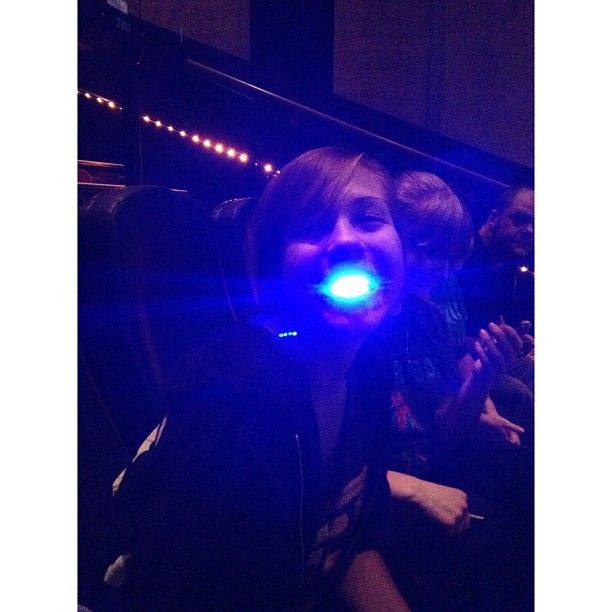 Then yesterday, we moved little sister into her freshman dorm. Kansas City has been having a really mild summer, so of course yesterday it was up in the 90s with no breeze to speak of. Thankfully it wasn't too busy and we got up there early. She's got a single, lots of room, pretty nice all things considered. After we got everything unpacked and mostly put away, we walked to campus and had lunch at the student union. Then my sisters went to scout out where all her classes were going to be, while I stayed in the union and read. We met back up and returned to her dorm, hanging some posters and stealing cans of pop from the outdoor break station. (Her mini-fridge is FULL of pop.) Then it was to my parents to visit, then to my grandpa to visit, then we came home and promptly went to bed at about 9pm. I slept HARD, for like 10 hours. It was intense.
So today I'm proofing an audio book, cleaning house, working on my het bigbang (2k words finished, 8k words to go!), and generally relaxing. A boring weekend.