Okay, so things haven't been that bad, but September wasn't the greatest month for me in a lot of ways. But they're all kinda boring ways, and to enumerate them would be to throw myself a pity party which eh, so onwards!

The one good thing that did come about last month was that we finally replaced our basement stairs.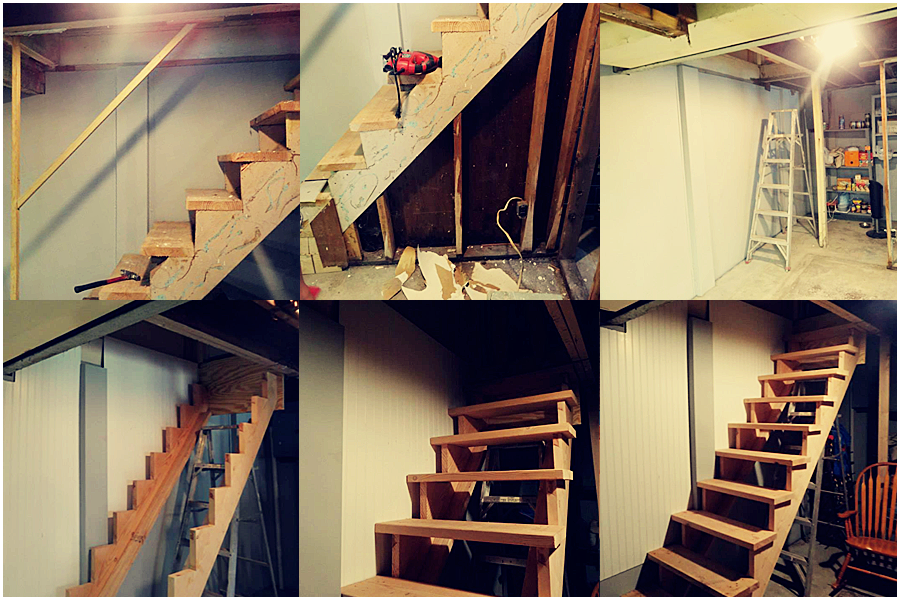 Our inspector had told us that they weren't the best, but we kept putting it off because it's quite an endeavor, especially for a bunch of people who have never built stairs before. In taking the old ones down, we realized that the bottom of the stairs wasn't even attached to the concrete floor; the whole staircase was just resting on the ground. Three nails were holding the stairs up at the top. That was it. So now at the very least we're not facing our deaths every time we go down to do laundry! As you can see, we also put up some paneling between the stairs and the basement wall, where we wouldn't have room to put up a real framed-in wall and drywall and all that jazz. The eventual goal is to finish two rooms in the basement, but we need to put a wall on the other side of the stairs so we can put in a railing and finish that up, first. Then comes replacing the wiring and tearing down the last of the half-ass rotted out walls that are down there! Yeah!

The other item of note this past month was our trip to St. Louis last week to see Sigur Rós in concert. The concert itself was fabulous, but I ended up with a migraine that very night, which is just profoundly and cosmically unfair. I ended up going to the concert anyway, after my sisters and our friend had already left. I had the front desk at the hotel call me a cab. And then I got to cross something off my bucket list! "Throw up out the open door of a moving cab." Such fun. But I got there and I didn't die and I did get to see the show, which was perfect and flawless, as one would expect.

Continuing to work on my novel, printed out last year's script for a revision, and starting work on a new script. That about sums it up.